"Mala Suerte" is the first episode of the first season and the first episode of Maya & Miguel.
Plot
[
]
Everyone is having bad luck in the Santos household, right before Santiago's big meeting with a famous pet store mogul.
Synopsis
[
]
When the usually meticulous Rosa scorches the family breakfast, Maya thinks the apartment is cursed with bad luck. Using Maggie's grandmother's Guide to Feng Shui (which they don't really have time to read thoroughly), Maya, Miguel and the gang redecorate the entire place in an effort to restore positive energy before Santiago brings home an important supplier for dinner that evening. But at dinner that night, the kids' freshly painted walls, makeshift Asian fountains, and rearranged furniture cause a lot more harm than good.
Cast
[
]
Candi Milo as Maya Santos / Tito Chávez
Nika Futterman as Miguel Santos
Carlos Alazraqui as Paco Santos the Parrot / Señor Maldonado
Jeannie Elias as Maggie's Mom; Mrs. Lee
Lucy Liu as Maggie Lee
Lupe Ontiveros as Abuela Elena
Beth Payne as Chrissy Lum
Elizabeth Peña as Rosa Santos
Carlos Ponce as Santiago Santos
Goofs/Errors
[
]
Despite the flying paint drops, especially when Paco flies directly overhead the first time, Chrissy remains looking neat.
The first paint can taken out gives the impression of an encrusted cover. But when Miguel says, "What're we gonna do with it?", the cover he opens is clean.
The kitchen faucet runs as the twins and Tito study water in the book but then inexplicably turns off.
There's an effect when Maggie holds up the Feng Shui book where it's overshadowed by a red sun to imitate Japan's status as the Land of the Rising Sun even though Maggie's family clearly originates from China. However, that probably doesn't matter since it's just a gag.
At the point where Miguel gets his soccer ball back after Rosa leaves, Maya's bobbles glow without her saying "Eso es!". This is the first time such a manner happens.
Chrissy's mouth isn't moving when she says, "Hmm, where shall we put it?" after Maggie gets the fan out.
When Miguel says, "Mirame! I'm drenched!" after Maya accidentally soaks him, his undershirt is missing but reappears afterward.
Physical distribution
[
]
This episode is available on the "Funny Fix-Ups" DVD.
Trivia
[
]
Maya has the first line in the series
References
[
]
Mala Suerte - The title of this episode means "Bad Luck" in Spanish.
Gallery
[
]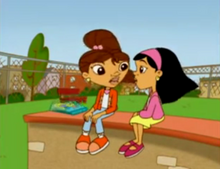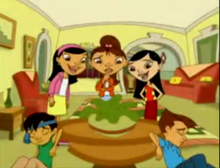 Video
[
]