Lupe Johnson
is a minor character in Maya and Miguel. He is very emotional and immature for his age.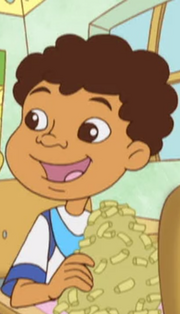 Physical Appearance
Edit
Lupe Johnson is a biracial boy with light brown or tan skin, brown eyes and brown curly hair. He is a mix of African American and Hispanic nationality. He is related to Tito's friend Marco.
Episode Appearances
Edit
Additional Information
Edit
Lupe is one of Mrs. Langley's students and possibly his step-mother.
He is 10 years old in Middle School. He cries when Paco (Maya's pet parrot) messes up his maccaroni artwork.
Image Gallery
Edit
"Somebody took all of my macaroni! (looks at maya desperately running out the classroom) "
"I'm telling my mom!"
"If I give you a dollar will you be my friend?!"